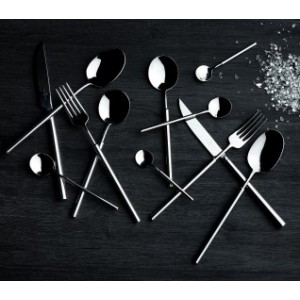 The bold design, the simplicity of the lines and the high level of finishing complete harmoniously the pieces which we proudly take to your table.
Vista Alegre cutlery is made in pure steel stainless 18/10 (AISI 304), 1st quality - with 18% chromium and 10% nickel – with high gloss finishing, a process which can only be achieved with a combination of technology and handmade work.
All the knives of the respective models are tempered in order to maintain unchanged their cutting power. Laser engraving on the blade complete the demanding manufacturing process.