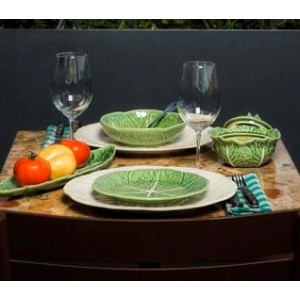 Bordallo Pinheiro, a reference brand within decorative earthenware and tableware, and carrier of a unique creative legacy, has developed a stoneware collection especially designed for the HORECA channel, in line with the increasing needs of this market.
Inspired on its best seller models, from the most historical ranges (the Cabbage collection) to the more contemporary (Fantasy and Rua Nova), these new collections upscale Bordallo Pinheiro's brand, projecting its unique iconography into a specific product segment where originality and creativity is a daily basis necessity.
The unique brand profile of Bordallo Pinheiro's collections is aligned with the product resistence and functionality required by the most demanding professionals, preserving the color depth and liveliness, the manual painting and relief work so representative of its unmistakable naturalism. Bordallo Stoneware products are truly distinctive multifunctional choices, bringing tradition, fantasy, and joy to the most diverse context.