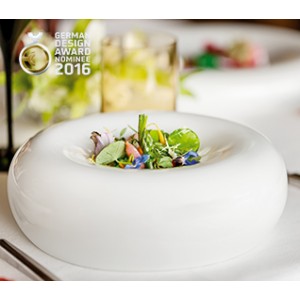 Infinita is a small collection of unusually shaped porcelain servers for sensitive and creative catering. Ideal for presenting premium, beautifully styled contemporary food concepts.
Softly stretched surfaces, without visible edges, with no start or finish, characterize the formal statement the servers are making. Infinita is effectively an endlessly stretched, almost spherical sculpture.
The traditional division in porcelain tableware of edge and eating surface is completely done away with here: for me Infinita is all about a sculptural, voluminous approach as opposed to a graphic suggestion; this results in individual possibilities of showcasing food in a unique way.
The charm of the objects stems from the contrast between the perfectly smooth and reflected surface, stretched over the inner core, and the exquisite dishes and sensitive food styling of an ambitious chef.